:: Our Commitment
:: Company Profile
:: Our Optometrists
:: Photo Gallery
Our Optometrists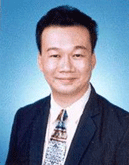 YANG Yit Kian. B.Sc.

Y.K. graduated as an ophthalmic optician (optometrist) from the University of Manchester, Institute of Science and Technology (UMIST) in 1985. Worked with Dolland and Aitchson in the UK for his pre-registration year and returned to Malaysia in 1986.

Started work as an independent optometrist in the family business and was involved in and organized many eye screening projects in the rural areas of Sarawak and took particular interest to diabetic retinopathy following a screening project in the 1980's. Since then, Y.K. has been working with his main interest in the early detection of retinopathy, treatment of children with strabismus (squints), amblyopia (lazy eye) and difficult cases including difficult contact lenses fittings.

YK is most involved in the care of the blind community as the chairman of the Miri Blind Center covering northern Sarawak. He was elected to serve in the Malaysian Optical Council for 2 terms from 2002 -2008. Founded the Sarawak Optical Traders Association in 1992 and served as president for the first 7 years. At present he remains an active member of the local Lions Club having served as President in 1999-2000, and an active member of the Association of Malaysian Optometrists..

Y. K. was recognized by his peers for his outstanding contribution to Malaysian Optometry by being awarded the National Optometrist of the Year in 2004, the first to receive such an award. He's married with 3 children.